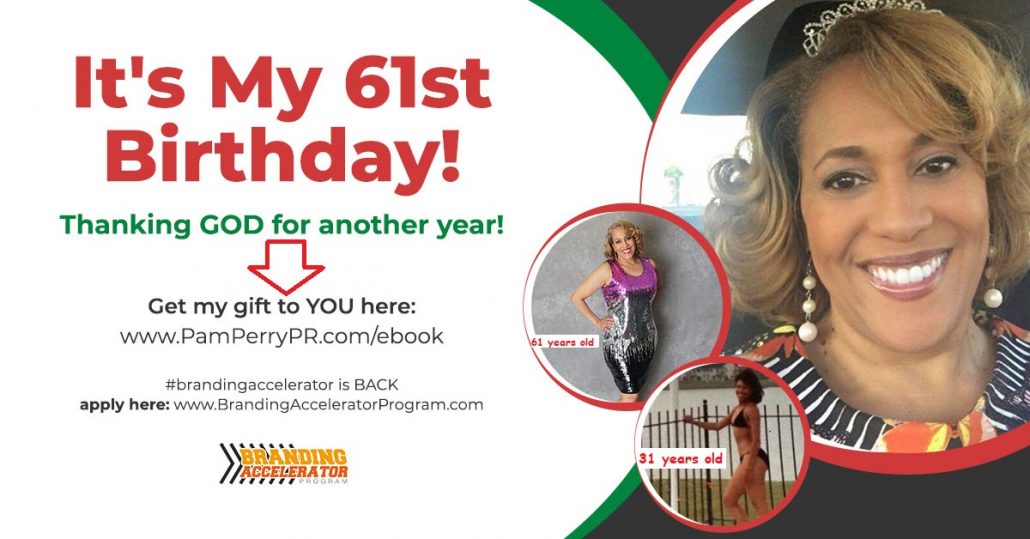 I'm spreading, sharing and sending love to you on today as it's my 61st year around the sun! I am sharing the truths, some words of wisdom, some tips, advice and strategies I've incorporated in my life that has helped me over the years to manifest my best life – while branding like a superstar too. 
Here's my list, let me know which ones you like the most below in the comment section:
You either learn from mistakes or mentors. Find a mentor.
Constantly take time to search, buy (never borrow) books that will change your life for the better. Here's a list of some of my favorites I pinned on Pinterest.
List your life. Write your goals, dreams, list what you're good at, list what you like, what you love and even list things you won't tolerate. Making lists have added so much clarity to my life.
Don't get distracted by foolishness. Limit your intake of stupid TV shows and ration your viewing  news – it's always negative. Why ingest that? You are what you eat.
Work out. I love to dance. It's my form of creative expression and exercise. I love Zumba and doing some Old School moves too…..I have even taken a liking to "jump fit" and yoga.
Have a mission for your money. It's a formula: Tithe 10%; save 10%; put 10% towards personal development; 10% goes to for those desires you long for; 10% for fun stuff or just to have some WAM (walking around money) – and 50% on living expenses/bills. This will give you peace of mind and financial freedom no matter how much you make.
Get and STAY organized. Keeping order will make everyday life easier – and make you feel like you have more time. Here's a quick "cheat sheet" to get organized.
Throw out old stuff. Declutter. OMG. The older I get; the more I accumulate. When my daughter (who is 24) moved out, she moved out in about an hour. LOL.  She didn't have that much stuff. Me and my husband plan to move to the Dallas area in a few years, we have to start now! Yes, my friends and I talk about all the stuff we have in that basement – it's scary. Clear out the clutter.
Give away some of your possessions. When the pandemic first hit last year, I went through my bookcases and mailed a lot of books to my former clients and mentees. I had read them and I knew which ones would be beneficial to each particular person I selected.  It's a gift I have. 😊
Constantly ask yourself questions. Ask yourself what do you need in your life right now; ask what would make your life easier; ask who you need to connect with to collaborate – the Universe has a way sending you signs, clues and answers right when you need it.
Don't let your possessions possess you. Wear everything like a "lose garment." That was the advice from one of my mentors, Martha Jean "the Queen" – Detroit radio legend.
Stay grateful. Get in touch with the abundance you already have — appreciate what you have and it'll make room for more.
Read poetry, quotes and scriptures. Words motivate me – I post inspirational quotes up around my home. I frame words…I love affirmations. These are guideposts to be my best life.  I've been reading and writing poetry since my days as Cass Tech High school; one of my favorite poems I discover then: Desiderata.
Visualize your desired future. Create vision boards. I've been doing this since I was teen too. I host vision board party with my friends and family once a year… 90% of things on my vision boards have manifested.
Keep your family top priority. Never work so hard that you don't keep the main thing – the main thing. Family is always first. Success is nothing without the someone you love to share it with. (Line from Mahogany – my favorite movie – LOL)
Create and execute. Words and pictures with action is useless. Activate your vision – I'm an activator…getting started is better than perfect.
Stay flexible. You either adjust or you'll self-destruct.  Don't be so rigid. Go with the flow.
Step out of your comfort zone – often. That's how you grow. You have to risk to win. Make that call. Put yourself out there. Pitch yourself to the press. Join that program.
Don't be so ambitious that you compete with everyone and make yourself crazy…only compete with yourself. Collaboration beats competition anytime.
Take time to acknowledge your accomplishments. "Milk" that feeling….feel thankful and celebrate yourself. Keeps you inspired.
Listen to some good music…often. I'm a DJ in my mind. I'm this guy: https://youtu.be/CCwvODA3qek – all my musical superheroes!
Breathe, relax and connect with your spirit often.  Meditate everyday – in the morning if you can. You'll hear God whispering to you what to do next to have success.
If it's not written – it's not real. An unrecorded goal is just a wish. Solidify your goals by writing them down.
Journalize! I've been keeping a journal for years. Go through old journals to see your progress and remind yourself what God spoke to your heart about. Keep the journal on your night stand with a pen. Sometimes during the night, when you get an idea…write it down – right then!
Make a list on conferences, events, webinars you want to attend. Keep a list!
Break down goals into manageable parts so you don't get overwhelmed.
Learn to automate and delegate – it will save your life.
Always moisturize. Especially your hands, feet and face. I use Jergens on my hands and feet and I use just about any drugstore brand … I think I'm going to upgrade. I need a Black-owned brand.
Laugh. A lot. One of my most favorite things to do. That's why I love my husband. We laugh and have fun a lot. He thinks I'm crazy. We watch a lot of stand-up comedy and listen to the comedy channel on Sirius XM. We love the Black comedians – from Richard Pryor to David Chappelle to Kevin Hart to Tiffany Haddish and Leslie Jones. We also like Ali Wong, Ellen, Jim Gaffigan, Mitch Hedberg, Wanda Sykes and Jerry Seinfeld. Ok, too many to name. LOL. We think comedians are the most talented people on the planet – especially the ones that took their tragedy and made them into a laughable moment. That's skill.
Get enough sleep. Sit up straight at your computer, fix your posture when walking and drink water. All these things we know, but we must do if we want to have a healthy life.
Trust your instincts – especially with online stuff. If it seems too good to be true – it's probably not. So many people "stretch" the truth via their FB ads, IG posts and emails. If you sense something is "off" – it probably is. Go with what you know. Learn to not have to be "hyped" into buying something – just investigate the person and see if their values mesh with yours and they have the skills, experience and background to help you.
Refresh your wardrobe. Buy stuff that makes you feel good. Pop color. Buy African-styled garments. Buy those shoes (but make sure they don't make your feet hurt)
Take care of your feet. When I was younger, I wore shoes that I paid for twice! Now, I just pay the money and save the pain…I don't need five-inch heels to be cute. I don't want bad feet!
Use aromatherapy to set the mood as you work. Light soy candles. It will inspire you and feed your creativity.
Go to museums to appreciate art. I love the DIA and the Charles H. Wright Museum (their exhibits are educations and gorgeous). I love going to exhibits. There is no better way to spark your own creativity.
Be a joiner. Join professional organizations. I'm a member of National Association of Black Journalists, Black Public Relations Society, Black Women in Radio (BWIR) and NNPA.
Those that show up, go up. Go to the events of the organizations you own! BWIR and NNPA events happen later this month.
Reinvent yourself. I'm 61 – and I look different – because I am different. I "rebrand" Pam every few years – my mission is the same, just the "style" is different.
Have a "do nothing" day – and see how your mind can unwind and make room for creative thought. Take a day and not get on your devices. Social media can be draining. Take a break from it once and while. Don't make an announcement. Just do it.
Learn how to speak better. Join Toastmasters to improve your public speaking. If you're thinking of becoming a professional speaker, join the Black Speakers Network or my Ready Set Go Speak
"F" it – forgive, forget and forge ahead. The best thing you can ever to for YOURSELF is to forgive others. You'll release yourself from a self-imposed prison of hatred; which is poison.
Buy Black. Yes, Black Lives Matter – but so does Black business. Take the time to support your community by buying from Black businesses.  Get a Black dentist, lawyer, doctor, plumber, publicist… you get the idea. We're out there – and we will all get stronger when we support each other.
Apply to awards. ALERT. Most awards are a "call for entries" – no one is going to just find you. Have to apply. I teach my authors and speakers how to find the right awards that fit their expertise. They've won book awards to the "40 Under 40" awards.
If you see a need, fill it. That's how millionaires are made. It's the entrepreneurial mindset. I learned this from my client, John Barfield. Read his book.
Get better with money. Read books or get a coach, my other client, Dexter B. Jenkins, is doing free strategy calls to help get you on the right track. It's his calling.
Be open. Don't be so judgmental. You never know who will impart wisdom into your life.
Don't despise small beginnings. If you speak in front of room of 10 people or 10,000 – give the same amount of energy to each.  You never know who is in the audience that could be your connection to your next level.  Trust me, this is sage wisdom. It's happened to me.
Have a theme song for the year, month or day. I love "I'm Every Woman" and "Just Fine." Some days it's anything by MC Hammer or MJ. I love to dance.
Look for ways to be a blessing every day. That is one way to have life of joy – and get out of feeling "depressed."
If you suffer a failure or accident, begin again. Things happen for a reason, don't sulks or fret – get up, dust yourself off and get up and begin again. When an ice skater falls on the ice, they don't stay down. They get up quickly!  Learn to bounce back.
Watch Oprah's Super Soul Sundays. Food for the Soul. I love her.
Watch your weight – but enjoy dessert. Don't live life so strict that you don't have fun and enjoy the cookie, cake or ice cream (once in a while!).
Pamper yourself. During the pandemic, people were pretty stressed. #Selfcare became the trending hashtag. But, it's good for our mental health to get a massage, mani/pedi or spa day. When you feel better, you can take on the world.
Know this: If people knew better, they'd do better. So be easy on people. Everyone has to start somewhere. Being a mother has taught me patience. And having a daughter has shown me how I used to be – and thank God for my mother who was patient with me.
Mail cards. People love getting cards in the mail – birthday cards, postcards, "just thinking of you" card. I have two friends/clients who do this regularly. Charlotte Howard and Precious Williams. I love them – they just know when to send the right words at the right time. Divine.
Do a cleanse. Or at least drink a green smoothie every morning. Take care of your body. Feed it the right stuff. Get rid of toxins. Learn about nutrition – especially as you get older. Drink tea.
Start something. I am a fire starter. I've started several nonprofit and professional organizations, podcasts, magazines — movements to make a change. If you see something, say something and then DO something about it. Let your voice be heard and include others with the same view.
Write out manifesto for your life. Frame it and put in someplace where you'll see it every day.
Go through your old "rolodex" or business cards periodically and connect with an old friend and catch up. I remember doing this because I felt impressed to call Nickole Byrd who I haven't talked to in years – and it was a good time because she had just lost her husband and my call lifted her spirits.
Say thank you. Let those you love know how much they mean to you. If there's anything that tough us that, it's been the pandemic. So many people left this world unexpectedly due to COVID-19.  What a wakeup call – but it has taught us all to be more empathetic, caring and slow down to say or show "thank you" to people that have been kind to us and that we appreciate.
Believe in yourself. Know that you are here for purpose. Discover that purpose. Live that purpose. Set your mind, and keep it set on positive things. Have a positive mindset is the key to success.
So that's my list…. I hope you gleaned something from it or reminded you of things you already knew but needed to do more of. Branding Accelerator is back and taking applications.