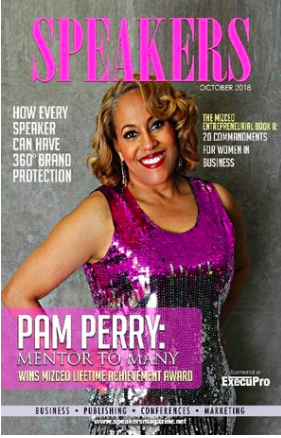 Pam Perry has worked 20+ years in publicity with many New York Times bestselling authors helping them launch their books. She is the publisher of Speakers Magazine and founder of Digital Business Acceleration. She wrote, Synergy Energy: How to Use the Power of Partnerships to Market Your Book, Grow Your Business and Brand Your Ministry to guide authors on how to build a platform. Through mentoring and teaching she details the ins and outs of getting on television and other media. Please check out her website, pamperrypr.com, as it is filled with all kinds of helpful information about getting exposure for your books.
I met Pam while working as a publicist at Hachette Book Group, USA and I know firsthand how knowledgeable, approachable, and funny she is. She did her first LinkedIn Live a few weeks ago and shared tips on how authors can get exposure. She is launching a new membership program and you can go to ReadySetGoSpeak.com to be notified when the class starts. Please read as I share some of my favorite takeaways from her LinkedIn Live.
Tip #1 Don't try for Oprah or Steve Harvey the First Time Out
When Pam is working with up-and-coming clients, she tells them to start with smaller markets to perfect their message, and gain experience. When working in these markets an author can put together video clips that will help them when it is time to gain entry into the larger markets. Everyone wants to be on Oprah, Steve Harvey, and featured in Essence magazine however, it's hard to get on theses spots when you are not a celebrity.
Tip #2 Have All Marketing Materials Ready
This includes hi-res photos, video clips, and bios. Major media outlets such as Essence, Oprah, and Steve Harvey expect authors to send the correct information quickly. When they ask for a bio, an author has to send it right away. These outlets don't have time to wait.
Authors should also make sure that their website is able to capture emails and handle traffic. You don't want to appear on a show and they cut to your website and it crashes.
Tip #3 Personalize Your Pitch
Authors should avoid the mistake of sending multiple pitches in a group email. Perry says that to get media placement, especially in high profile outlets, each pitch must be personalized. There are differences in television, print, radio, podcast, and bloggers. An author should become familiar with the type of content an outlets uses and make sure their pitch has the tone, language when reaching out to journalists. Following media outlets and journalists on social media is a good way to learn the style and topics a media outlet covers.
Tip#4 Piggy-back on Topics in the Media
Race and politics are really hot topics right now and if you don't speak on those topics you may have to tailor your message to fit into a niche. Check out what is in the news and see if that is something you can talk about. HARO, (Help A Reporter Out) sends out emails with queries from reporters looking for people to interview. This is a great way to find out what media outlets and journalists are looking to cover in the future.
Tip #5 Relationships are Important
Maintaining relationships is important in publicity as people often prefer to work with someone they know. Perry has worked with a lot of A-List celebrities, such as T.D. Jakes and Taffie Dollar, to help them launch their books. Her specialty is Black press and she advises authors who want to be covered in these outlets to support the Black Press. NABJ, National Association of Black Journalists, has chapters all over the country and conventions every year. There are several membership levels making this an affordable economic investment.
She also recommends joining Nonfiction Writers Association and using the Christian Writers Market Guide to get leads and/or writing assignments.
Bonus Tip: Use your gift, don't wait, because tomorrow is not promised. The recent passing of several high profile celebrities has shown us to make use of talents and gifts.
I learned so much from listening to Pam Perry's LinkedIn Live. Please check out her website pamperrypr and follow her on social media @pamperrypr to learn about her webinars and get more tips.
Write by Candace Waller – September 14, 2020. 
Candace Waller is a Christian fiction author. Her novel, What Goes Around Comes Around can be purchased on Amazon. Her new book Good Things Comes, a sequel to What Goes Around Comes Around, is available for preorder on Amazon.
Here's the Linkedin Live VIDEO… that's where Candace did an excellent job in breaking it all down! Thanks Candace!