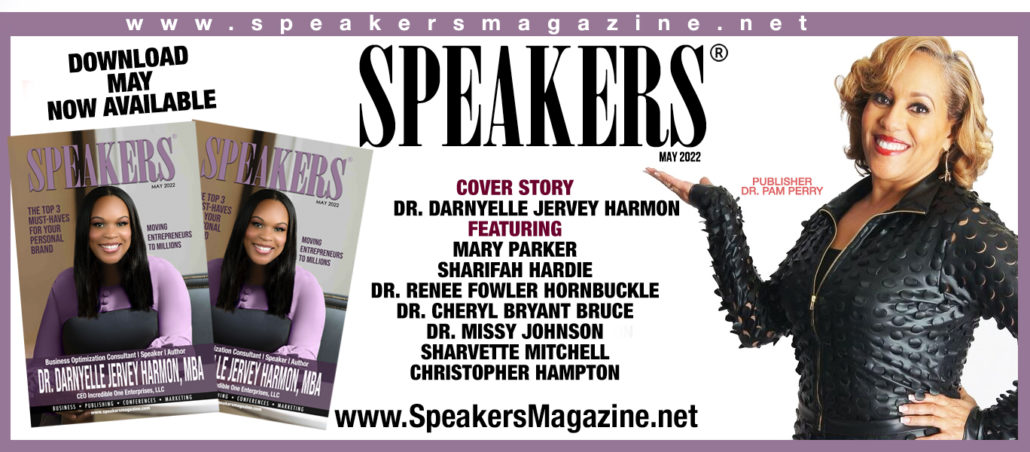 There's no question about it: abundance is your birthright, and 2022 is the year that you should step boldly into it. It's time to stop downplaying, doubting, and dismissing the value of your God-given talents and start believing that you—yes, YOU—are worthy of MORE in your life and business.
That's why I'm inviting you to join me and this month's covergirl, Dr. Darnyelle Jervey Harmon's to her transformational, life and business-changing live event, Move to Millions 2022 Live.
It's happening May 25-27, 2022, just outside Philadelphia, PA in Wilmington, DE. [LIVE – not virtual!]
Check out her story in this month's Speakers Magazine, see below.
Her highly experiential event features powerful speakers sharing their Move to Millions story as well as Darnyelle teaching from the Move to Millions framework. I want you there because I know it will help you shift your mindset and get rid of the self-limiting beliefs that are preventing you from becoming a CEO who makes and moves millions. You'll also learn some next level marketing, sales, and scale strategies too.
Meet me there! Over the course of 3 days, this powerful experience focuses on the principles, assets and legacy required to make and move millions. By the end of the event, you'll:
Understand the link between the way you see yourself and the way you see money.

Discover the mental and spiritual principles necessary to becoming a million-dollar CEO.

Learn the 7 assets that need to be integrated into your company's infrastructure to leverage and scale your business.

Get clear on the next steps to building a business that serves you, funds the life you crave and profitably impacts the world.
Listen … it's possible to "oops" your way to six figures. But take it from me, you can't "oops" your way to seven figures. You need to PREPARE for millions by using her proven blueprint and success mindset.
And that's exactly what this event will help you do. See you there!
Don't just meet me there, beat me there!
View this post on Instagram