Ok, I'm kinda a geek. I love geeky stuff. My friend, Dante Lee, owner of about BlackPR.com and BlackNews.com and BlackHistory.com and BlackBusiness.com – well you get the idea. He is the "dot com" king in all things Black. Dante has been in business for over 20 years – and he's only 40. He's a geek from waaaay back. He started his business in his dorm room at Bowie State University.
He is my friend, strategic partner and just a cool dude. He partners with me on Speakers Magazine and a lot of my other clients over the years. He saw that Speakers Magazine was a "Dot Net" when I started it. He inquired why and I told him that the "dot com" was not available.  That's was four years ago…and Dante went to work to make sure we got SpeakersMagazine.com. It's his jam to negotiate stuff like that and stay on top of domain availabilities.
So, about a week ago, he "gifted" me SpeakersMagazine.com!  I was soooo excited. Because people always went to SpeakersMagazine.com instead of  SpeakerMagzine.net. Habit. But it was not available and I had wanted to own that domain for years!  And Dante Lee got it for me!  What a friend – what a great birthday gift!  Thank you Dante! See the official Godaddy transfer below. 🙂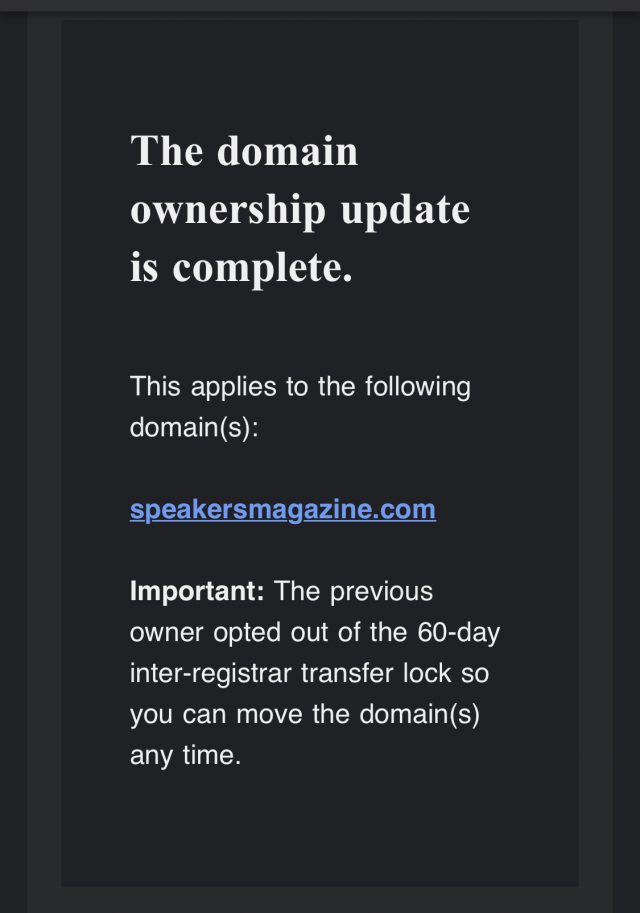 (Sidenote, always OWN your own domain and your name dot com) If someone builds a website for you, make sure you own the Domain name. It's your digital real estate!
Want to know what all this Geeky stuff is all about and how to use it to build your platform, apply to join my Branding Accelerator Program that starts in June…