Are you an aspiring speaker looking to take your skills to the next level? Do you want to learn the tricks of the trade from some of the biggest names in the industry? If so, then you won't want to miss our upcoming event in Washington DC!
Join us for an unforgettable experience as we bring together celebrity speakers from all corners of the industry to share their insider secrets with you. Whether you're just starting out or you're a seasoned pro, you'll leave this event feeling inspired and equipped with the tools you need to take your career to the next level.
These speakers have decades of experience between them and have delivered captivating speeches to audiences around the world. From mastering public speaking to marketing and everything in between, this lineup of experts will cover it all.
You'll learn how to craft a compelling message, how to engage your audience, and how to deliver a knockout performance every time.
But it's not just about the learning. You'll also have the opportunity to network with other speakers, as well as with our celebrity guests. Imagine rubbing shoulders with some of the biggest names in the industry, picking their brains for tips and tricks, and forging connections that could last a lifetime.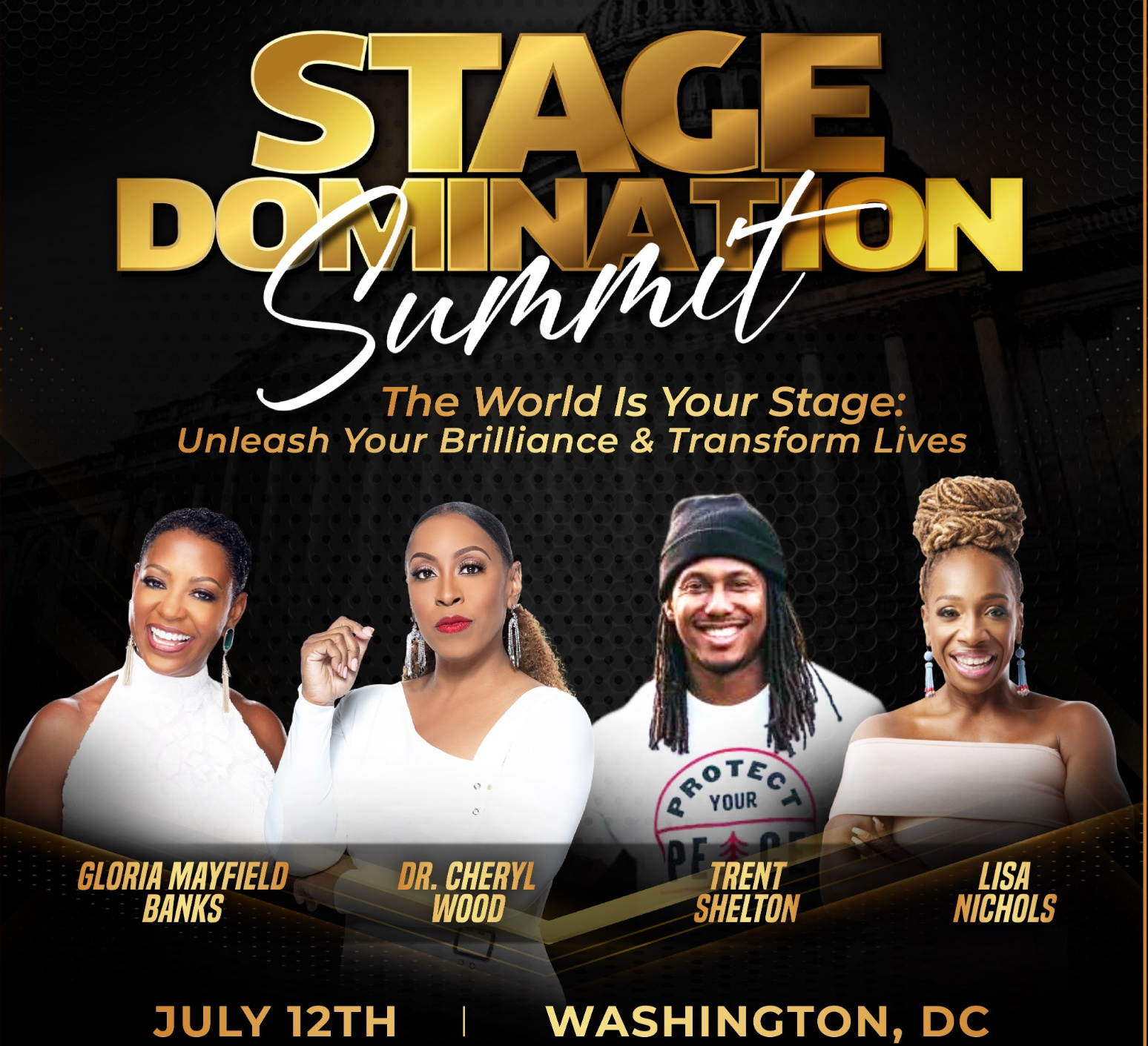 STAGE DOMINATION 1-Day Summit in Washington, DC on Wednesday, July 12th (www.StageDomination.com). This is a once-in-a-lifetime, transformational opportunity to experience the power & impact of world renowned speakers Dr. Cheryl Wood (the host), LISA NICHOLS, GLORIA MAYFIELD BANKS & TRENT SHELTON all in the same building on one day.
We have a very limited number of ELITE tickets that include a luncheon with the speakers, a Q&A session with the speakers, and a Photo Op with the speakers… but TAKE FAST ACTION because these limited tickets will SELL OUT FAST! Click Here to buy your ticket
If you're done just talking about who you want to become and what you want to accomplish, this event is for you! Click here
If you want to learn real, implementable strategies from people who have achieved massive, sustainable success, this event is for you! Click here
We can't wait to see you in Washington, DC on July 12th! I don't care if you get a General Ticket, Elite Ticket or VIP Ticket – just get there!