You like your career – but feel there is something more. You want
to reinvent yourself but really don't know what to REINVENT yourself to?
You just want to know: "What do I want to be when you grow up" now?
To find an answer to this question, here are the 10 questions you should ask yourself when determining how to rebrand & reinvent.
This assessment will help you find your a niche in which you will specialize in and monetize to create a career that will give not only financial freedom – but pure joy and bliss!
As you think of the answers, put them in a "reinvention" journal:
How would you spend your time if you didn't have to work?
What are your hot buttons?
What activities make you excited and you lose track of time?
What do people say you're good at?
What do I have an aptitude for?
What type of training has your time or your money been spent on?
What are you very "for sure" about and love to talk about a lot?
What experiences make you unique and marketable?
What have I accomplished or been recognized for?
Which of the above areas has the least competition?
Which of the above areas pays high rates?
Now, you have a guide on how to monetize or rebrand your career.
Your first step is to "rebrand" yourself by becoming a known expert in a niche.
We can help. Brand like a superstar…but first, LAUNCH!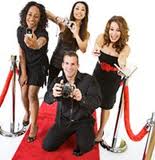 Get your free ebook.