Black History month is a reason to celebrate the accomplishments of African Americans who are doing it, done it and inspiring generations to come.
Black women are the most beautiful people on the planet. Not only are we beautiful – but strong, smart and creative – and just all around BEAST at whatever we put our hands to.   I'm so proud of these ten black women – there are so many They are stars because they "shine" on the big screen and in the media and their light shines from within too. They have values and are not afraid to voice their opinions for what is right.  They are writers, artists, creators and trailblazers committed to helping other black women rise. Successful women don't compete, they collaborate!
Taraji P. Henson – She is an actress, singer, and author. She studied acting at Howard University and began her Hollywood career in guest-roles on several television shows before making her breakthrough in Baby Boy. She is 48. She is famous for her role at the strong black woman, Cookie, in Empire. What I love about her is that she never let the naysayers stop her from her dream. She said, "When I got pregnant in college, people said, 'This is it for her.' But I did not stop. I never missed a class. I was in the school musical when I was six months pregnant—we just made the character pregnant. My mother swears Marcel came out doing the dance; he had learned the choreography. When I graduated, I carried my son across the stage. I wanted to be an actress; I moved out to L.A. with him. I had a mission. I had to make my dream come true."  The rest is history.2. Viola Davis. She is an Oscar award-winning actress and producer. She is the recipient of several awards, and is one of the few performers to have won an Academy Award, an Emmy Award, and a Tony Award, named the Triple Crown of Acting. She is 53. I feel in love with her in "The Help."  She was the type of black woman I related to – she went to war with her words.  She was born on her grandmother's farm in South Carolina. When she was two months old her family moved to Rhode Island, where her father worked as a horse groomer/trainer. Her mom worked as a maid and factory worker but was also a civil rights activist. Davis during high school she developed a love of acting and studied theater at Rhode Island College and also attended the prestigious Juilliard School in New York City. She is bad!

3. Angela Bassett. She is an actress and activist. She is known for her biographical film roles, most notably her performance as Tina Turner in the biopic. She went to Yale is and married (still married) to Detroiter, Courtney Vance (of the TV series CSI) who also went to Yale. She is a determined woman also. Did you know when she graduated from Yale? After she graduated from Yale, worked as a receptionist for a beauty salon and as a photo researcher in NYC and then began looking for acting work in the New York theater. It's not where you start, but where you finish. I love her because she tries to bring meaning to her roles. Bassett turned down the lead role in Monster's Ball because of the script's sexual content. (As you remember, Halle Berry took the role an won an Oscar for Best Actress). She has often turned down roles which she viewed as demeaning to her image or images of black women.  She said, "This is a career about images. It's celluloid; they last for ever. I'm a black woman from America. My people were slaves in America, and even though we're free on paper and in law, I'm not going to allow you to enslave me on film, in celluloid, for all to see. And to cross the water, to countries where people will never meet people who look like me. So it becomes a bigger thing than me just becoming a movie star, and me just being on TV." I love her!  Oh, and she turned 60 this year – and posed in a bikini on IG.  4. Tyra Banks. She is not just a pretty face.  She is TV personality, producer, businesswoman, actress, author, former model and occasional singer. She knows how to work (and leverage) what the Lord gave her. She became a leading international fashion model and the first black woman to land on the cover of the Sports Illustrated swimsuit issue. … she has continued to expand her business interests, launching her own cosmetics line in 2014. And remember the Tyra Banks show? It ran from 2005 to 2011. She is a serious branding machine. Beauty and brains. She is 45. 5. Jennifer Lewis. She is one of Hollywood's most familiar faces, with more than 300 appearances in film and television. Dubbed a "national treasure" by TVGuide.com, Jenifer currently stars on the Emmy-nominated hit show "Black-ish," where her hilarious portrayal of Ruby Johnson.  Jenifer's bestselling memoir, The Mother of Black Hollywood, was named "2018 Book of the Year" at the National Book Club Conference.  She is 62. As both an actress and an activist, Jenifer is a social media sensation. Her viral hits include For My Book, Get Your Ass Out and Vote!; Flint Ain't Fixed; and In These Streets with Brandy and Roz Ryan. She was also recognized by the NAACP Lifetime Achievement Award in Theatre. She is so frank and funny – but she ain't no joke! 6. Cicely Tyson. Who doesn't love Cicely? She is an award-winning actress and former fashion model whose acting career has spanned more than six decades. She is best known for playing strong African-American women on screen and stage. At 94, she told Time Magazine that she is not retiring.  In 1957, she began acting in Off-Broadway productions. She had small roles in feature films before she was cast as Portia in The Heart Is a Lonely Hunter (1968). Four years later, Cicely was nominated for an Academy Award for Best Actress for her sensational performance in the critically acclaimed film Sounder (1972). In 1974, she went on to portray a 110-year-old former slave in The Autobiography of Miss Jane Pittman (1974), which earned her two Emmy Awards. She also appeared in the television miniseries Roots (1977), King and A Woman Called Moses (1978). While Cicely has not appeared steadily onscreen because of her loyalty to only portray strong, positive images of Black women, she is the most talented, beautiful actresses to have ever graced the stage and screen.  The epitome of a legend. 

7. Diahann Carroll. First African-American to be nominated for a Primetime Emmy Award in 1963. She is an amazing actress, singer and model. She rose to stardom in performances in some of the earliest major studio films to feature black casts, including Carmen Jones in 1954 and Porgy and Bess in 1959. She is 83. In the late 1960s she would break a major ethnic barrier on the small screen. Though it was nearly impossible to suppress her glamour, she touchingly portrayed an ordinary nurse and widow struggling to raise a small son in the series Julia (1968). I used to love that show as a child and then watched in Claudine as a teen then she And then I fell so in love with her "diva" role in Dynasty. She was always breaking racial barriers in entertainment. Go on girl. 8. Kerry Washington. She attended George Washington University, graduating Phi Beta Kappa in 1998 with a double major in anthropology and sociology. She is an actress and since 2012, she gained wide public recognition for starring in the ABC drama Scandal, a Shonda Rhimes series in which she played Olivia Pope, a PR and crisis management expert to politicians and power brokers in Washington, D.C., Kerry is also a producer and a face of Neutrogena. Emmy and Golden Globe nominated, she is a versatile and fearless actress who continues to shine on both the big screen and small. She is 42. A native of The Bronx, Washington has received high acclaim for her work on stage, on television and on film. In 2004, she starred alongside Jamie Foxx in RAY. and her performance earned her the NAACP Image Award for Outstanding Actress in a Motion Picture.  Oh, let me say, I MISS SCANDAL! 9. Octavia Spencer. She is an Oscar Winning actress, author, and film producer. She is the recipient of an Oscar, a British Academy Film Award, and a Golden Globe Award. She is one of two black actresses to have received three Academy Award nominations. She made her film debut in the 1996 drama A Time to Kill. Following a decade of brief roles in film and television, her breakthrough came in 2011, when she played a maid in 1960s America in The Help.  I also loved her in Hidden Figures. She received Academy Award nominations for Best Supporting Actress for playing the mathematician Dorothy Vaughan in that biographical drama film. As an author, Spencer has started a children's book series, titled Randi Rhodes, Ninja Detective. She has published two books in the series, titled The Case of the Time-Capsule Bandit (2013) and The Sweetest Heist in History (2015). She is 46. 10. Sanaa Latham. She has starred in many films, including The Best Man, its 2013 sequel, The Best Man Holiday, Love & Basketball, Brown Sugar, Alien vs. Predator, The Family That Preys, Contagion and Now You See Me  In theatre, Lathan was nominated for a Tony Award for her performance on Broadway in A Raisin in the Sun and starred in 2010 in the all-black performance of Cat on a Hot Tin Roofat the Novello Theatre in London. She is 47. Recently, Sanaa shaved her head for Nappily Ever After, streaming on Netflix, and she said it helped her to embrace her natural hair and really believe, "I am not my hair." 

If you see a pattern on why I picked my top ten. Yep, you guessed it. It's not because they're beautiful outside – but on the inside as well. Living their lives to be a role model. To make a difference. They don't have to "stay woke" – they always were. Their brand speaks for them after they are off the screen. They are "representing" for real.  YES.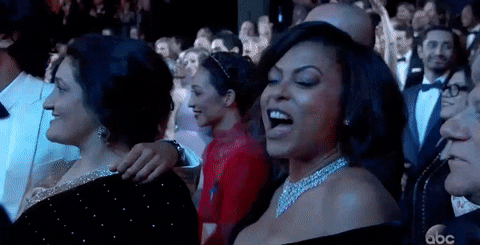 Who are some of your favorite Black Women who make you proud?  What does your brand say about you?